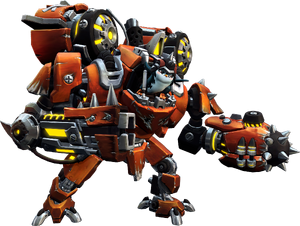 This strategy guide was created to help players determine the best Gear and Helix choices for this Hero based on Game Mode type and Role. Contributors are encouraged to share their knowledge so that others may benefit from it.
Toby's Level 1 stats:
| | | |
| --- | --- | --- |
| Max Health: 1388 | Health Regeneration: 0 | |
| Max Shield: 300 | Shield Recharge Delay: 5 s | Shield Recharge Rate: +60.0 |
| Primary Attack: 78 | Secondary Attack: - | |
Toby combines some classic mech and railgun gameplay elements to be one of the most powerful defenders. His primary attack is a charged railgun that lets players repel enemies at medium and long range. Additionally, he can zoom in to improve his long range targeting. His arc mines hover in place and damage nearby enemies, helping to control chokepoints and he can deploy an energy shield to protect himself and allies. If he shoots his railgun through the shield, the shots gain speed and damage boosts. His ultimate ability transforms his mech's engines to discharge a powerful heat beam that can vaporize his targets.
He is best paired with Reyna as she can mark targets for bonus damage and Toby can snipe them with a fully charged railgun. She can also apply an overshield as extra defense.
A good tactic against Toby is to blind or slow him down with Crowd Control, then take him out with fast melee characters like Rath or Phoebe or a snipe from Marquis.
PvP Builds
Edit
PvE Builds
Edit