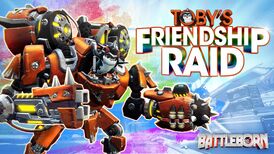 Toby's Friendship Raid shot is a Story Operation, which was released with November 9, 2016 update.
Description
Edit
"We're about to drop you off on a factory ship convoy hurtling through the Detritus Ring...
The fleet was stolen by a rogue LLC employee, and we think he's building an army to take over Solus.
Let's find out what this LLC reject is planning and stop him. Valkyrie, out."
– Reyna
Objectives
Edit
This operation focuses on rescuing Toby's mech suit, Berg, from a former LLC Employee dubbed Thaddeus Wishingbone. The ultimate goal of each story is to beat Thaddeus and his crew of pirates, destroying one ship after the other until they are defeated once and for all.
In this operation, there are a total of 23 side objectives. However, the player will only have to complete four randomly selected objectives within a single run-through. Currently, a couple of the potential objectives are missing, so they are not listed below.
Inhabitants
Edit
Characters
Edit
Common Enemies
Edit
Official screenshots:
Miscellaneous:
References
Edit