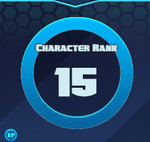 The Character Rank is the individual character ranking of the player, which is maxed out at Character Rank 15. Character XP is obtained by playing matches and passing certain Challenges.
There are certain rewards for achieving each Character Rank, which are:
All Lore Challenges completed +


Completed a match on Character Rank 15

-
"Master of ..." Title + Character Skin (black-purple)
Ad blocker interference detected!
Wikia is a free-to-use site that makes money from advertising. We have a modified experience for viewers using ad blockers

Wikia is not accessible if you've made further modifications. Remove the custom ad blocker rule(s) and the page will load as expected.