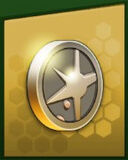 Platinum is a premium currency in Battleborn that was introduced in the Battleplan #6. You can obtain them by buying them in the in-game Marketplace with funds from your Steam Wallet (or your system's equivalent) or, as of the Winter Update, by completing daily quests.
It is used to buy Cosmetics (Taunts and Skins), Boosters (XP and Loot), and Operation Missions (ex. Attikus and the Thrall Rebellion).
There are 5 purchasable options:
230 Platinum - (1,69€) ($1.99)
700 Platinum - (3,99€) ($4.99)
1625 Platinum - (7,49€) ($9.99)
3500 Platinum - (14,99€) ($19.99)
9300 Platinum - (37,99€) ($49.99)
Ad blocker interference detected!
Wikia is a free-to-use site that makes money from advertising. We have a modified experience for viewers using ad blockers

Wikia is not accessible if you've made further modifications. Remove the custom ad blocker rule(s) and the page will load as expected.