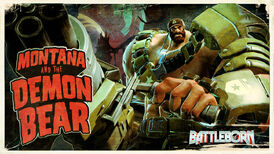 Montana and the Demon Bear is a Story Operation, which was released with February 2, 2017 update.
Description
Edit
"This story's got it all: mystery, adventure, a jumping section.
Prepare yourself for... the Tale of the Demon Bear!"
– Montana
Objectives
Edit
In this operation, there are a total of 24 side objectives. However, the player will only have to complete four randomly selected objectives within a single run-through. Currently, a couple of the potential objectives are missing, so they are not listed below.
Inhabitants
Edit
Characters
Edit
Common Enemies
Edit
Official screenshots:
References
Edit