For the Character Lore, see Character Lore.
Lore Challenges
Edit
| | |
| --- | --- |
| My Dear Miss Glory | Damage 3 enemy Battleborn with a single use of Bola Snare 25 times. |
| Heroes Aren't Born | Directly hit 5 injured allies with Support Drones in a single match 25 times. |
| Stellar Cast | Heal or damage at least 4 other Battleborn with a single use of To The Rescue 10 times. |
| Suit UP | Hit 3 different targets with a single Rocket Vortex 100 times. |
| First Flaw of Robotics | Get 50 assists off of allies affected by Aura of Justice at the time of the assist. |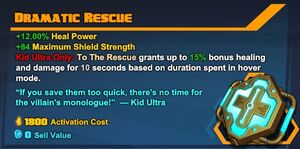 Ad blocker interference detected!
Wikia is a free-to-use site that makes money from advertising. We have a modified experience for viewers using ad blockers

Wikia is not accessible if you've made further modifications. Remove the custom ad blocker rule(s) and the page will load as expected.