Lore ChallengesEdit
| | |
| --- | --- |
| Wings of Valor | Fire 500 grenades while under the effects of Power Egg's Attack Mode. |
| The Demobird | Deal 10,000 damage to enemies with Ernest's Explosive Charge before it hits the ground. |
| Fellowship of the Flightless | Complete 3 matches while on the same team as Toby. |
| Grenades and You | Score 100 direct hits with Ernest's grenade launcher. |
| RE: Worthless Pukes | Deal 25,000 damage to other Peaceckeepers |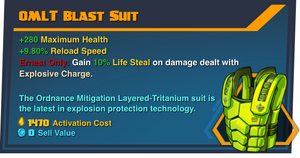 Note: completing all Lore Challenges is a part of "Master of Ernest" challenge which rewards player with "Owl" skin and "Master of Ernest" title.
This section needs some improvements.
You can help the Battleborn Wiki by expanding it.
Wings of Valor
(Inscription upon the face of the plaque awarded to Sgt. Ernest Igrin for his actions during the ill-fated evacuation of Menneck-B.)

For his valor in defense of his homeworld against Varelsi assault;
For his bravery in securing the safety of 324 souls at the risk of his own
The Demobird
|| UPR LOGBOOK / REPORT, ENTRY #2235904728
|| USER: Captain Trevor Ghalt
|| SUBJECT: Demolitions Candidate
|| DATE: y.19946, d.18

The disastrous evacuations at Menneck may have been one of the UPR's greatest failures, but I'll be damned if the system's heroes didn't rise to the occasion. Base in point: Sgt. Ernest Igrin, on of the Menneck-B's premiere demolitions experts, and by far one of the most decorated candidates to cross my desk. This aviant's got a service record a mile long, and unlike Benedict, he's pretty well-regarded by his peers and reports alike.
And best of all, Ernest's a born leader. He spent most of his time prior to the Darkening of Menneck building special weapons teams and training new recruits in explosives handling and bomb defusal, and earned himself a reputation as one of the hardest, most disciplined instructors of his generation. According to his record, he defied his commanding officer's orders to evacuate with his squad just hours before Menneck was darkened, rallied a couple of extra pairs of hands, and blasted his way through a collapsed subway tunnel of free over 300 civilians trapped inside.
Gonna keep an eye on this one. We could use a demolitions expert, and hell, maybe he'll have better luck whipping Benedict into shape than I did - or at least get him to tone it down a notch or two.
Fellowship of the Flightless