For the Character Lore, see Character Lore.
Lore Challenges
Edit
| | |
| --- | --- |
| Armed And Handsomest | Complete 3 matches while on the same team as Kleese. |
| Fired Up | Kill 20 enemy Battleborn while En Fuego. |
| The Fall Of The Luchador | Destroy 100 Minions with Dragon Splash. |
| The Price for Disarmament | Strike 4 enemies with a single use of clothesline, 100 times. |
| The Rise Of The Dragon | Land the killing blow on ISIC in "The Algorithm". |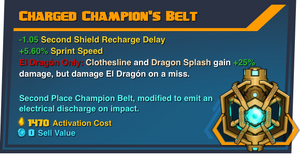 The Rise of the Dragon – "Undefeated" taunt
All Challenges:

Character Specific legendary gear – Charged Champion's Belt.

Note: completing all Lore Challenges is a part of "Master of El Dragón" challenge which rewards player with "El Rudo" skin and "Master of El Dragón" title.
This section needs some improvements.
You can help the Battleborn Wiki by expanding it.
The Price for Disarmament