Lore ChallengesEdit
| | |
| --- | --- |
| Let Slip the Dogs | Affect 5 or more enemies with a single use of Outbreak 10 times. |
| Chimera Oscura | Apply Patient Zero to 50 allies. |
| Indifference Aside | Kill 100 enemies with Fulminate |
| Nichts ist Ohne Gift | Deal 50,000 damage with the Incistyx Injector in a single match 10 times. |
| Shining Crazy Diamond | Apply Infection to 100 Battleborn |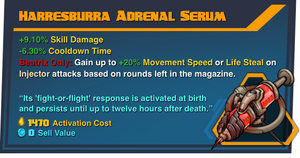 Note: completing all Lore Challenges is a part of "Master of Beatrix" challenge which rewards player with "Contusion Profusion" skin and "Master of Beatrix" title.
This section needs some improvements.
You can help the Battleborn Wiki by expanding it.
Let Slip the Dogs
(Inventory of damages and losses following the containment failure of Thrall Broodhall 42.e2, "Chapel Querulous", compiled by the Jennerit Spymistress Deande during her investigation.)
FACILITY STAFF:
Presiding Chief Researcher: Dr. Beatrix Lucavi (missing; presumed dead)
Chief Assistant Researcher: Dr. Gorrel Sicanthus (in Inquisitor custody)
Resident Associate Researcher: Dr. L. X. Jaeth (missing; presumed dead)
Chief Public Relations Representative: Prof. Hopkins (missing; presumed dead)

<Personal Note: I'm astonded those toxin jockeys managed to keep that thing alive this long. Need to speak to Halthix about a stand-in solution for the PR massacre when people find out about Professor Hopkins...>
VESTIBULE A:
Shard Field 1, disabled
Shard Field 2, disabled
Holofeed Panoptic Monitor, destroyed

PRIMARY ANTECHAMBER:
Guard station, biohazard (blood, viscera, unidentified chemical spill)
Holofeed Panoptic Monitor, destroyed

CONTAINMENT WING A:
Energy Pylon (Master), damaged (estimated repair time: 2 weeks)
Energy Pylon (Slave), destroyed (overloaded)
Energy Pylon (Slave), destroyed (overloaded)
Containment Fields A-E, disabled (all subjects missing)

CONTAINMENT WING B:
Energy Pylon (Master), damaged (estimated repair time: 2 weeks)
Energy Pylon (Slave), destroyed (overloaded)
Energy Pylon (Slave), destroyed (overloaded)
Containment Fields A-E, disabled (all subjects missing)

TOXICARIUM:
Synthide-2 ("Halcyon") dispenser, missing
Synthide-5 ("Husher") dispenser, destroyed (neutralized)
Synthide-14 ("Husher") dispenser, destroyed (neutralized)
Toxiculture-11 ("Agonite Cap"), destroyed (vaporized; now presumed extinct)

<Personal Note: Most likely an inside job. Whoever it was, they knew to render the compounds inert without risking an epidemic by destroying the containers.>
OPERATING THEATER A:
"Incistyx" Javelin-class Injector, missing
Public Relations Office, damaged (lock broken)

<Personal Note: Ah.>
Chimera Obscura
---
JENNERIT ARCH-SCIENCES, LAB 42 19208.300, T.21H49M
REPORT: PROJECT PHALANX
RESEARCHER: DR. BEATRIX LUCAVI, SUS. PRSC.
SUBJECT: STAGE ONE TRIALS LOG
STAGE ONE TRIALS FOR PHENOTYPIC ALTERATION, AUGMENTATION, AND NEURONAL XENOGENESIS
---

Species 1: F. ALCEMENIENSIS, "ALCMENIAN FEROCIRAPTOR"
Notes: The ferociraptor is unmatched in predatory cunning and... fierceness. It should be a force to be reckoned with, properly adapted and enhanced. We're incredibly lucky to have saved a specimen before Alcmenia-Sigma was Darkened.
// TRIAL DISCONTINUED
Reason: Ferociraptors are deathly allergic to surgical infracarbon. Who knew.

Species 12: LUPUS CYCLOSCUTUS, "TERRESTRIAL SCALEWOLF"
Notes: Scalewolved are apex predators with pack instincts well-suited to combat. Initial tests will focus on increasing scale density, introducing regenerative properties, and strengthening keratinous production. Ideally, we can modify them to grow something that can cut through shielding. We could probably just graft some carbon sheaths, but that's no fun.
// TRIAL DISCONTINUED
Reason: The claws were a success! Sadly, it seems sparring is an important and frequent component of pack bonding. We lost three subjects.
// TRIAL RESUMED
Notes: Introducing the planned defensive structures should resolve the earlier issue.
// TRIAL DISCONTINUED
Reason: The regeneration and scale augmentations were a success! Unfortunately, the rapidly healing scales form growth plates that fuse together. So now, we have grotesque caricatures of scalewolves petrified by their own morphology. On the plus side, Arch-Taxidermist Halthix will be delighted with his birthday present this year!
Species 149: HARRESBURRA HARRESBURRA, "COMMON HARRESBURRA"
Notes: Harresburras lack aggression, intelligence, defense mechanisms... really, any redeeming qualities for the purposes of this project. In addition, their senses are universally myopic, their meat is a delicacy in virtually all societies and ecosystems, and their tendency for stress-induced heart attacks puts their average longevity just over two weeks. However, where others see futility, I see a blank canvas! They are BEGGING to have their genome tossed like a garden salad, and anyone who has seen a harrsburra beg knows you can't say no to that.
// TRIAL DISCONTINUED
Reason: We have a new office mascot! His name is Professor Hopkins.
Species 356: VARIFORMA INSOLITA ETRAE, "ETRAN VARIMORPH"
Notes: The holy grail of mutagenic induction, the Varimorph's predisposition for mutation is an asset of incalculable value to not only Project PHALANX, but to any number of programs. The research grants practically write themselves!
// TRIAL DISCONTINUED
Reason: Doctor Trevan left a scalpel in the patient's abdomen before closing up. Four hours and a dead night attendant later, the Varimorph cut its way out of the facility. Great. Now we have to lose another day of research cleaning up this mess, sitting through Trevan's execution, and watching ANOTHER video on workplace protocol.
Species 827: MACROBRACHUS CORNIFAUSTIS, "TEMPESTIAN GRAYHORN"
Notes: The grayhorns are common enough on Tempest that we have plenty of room for experimentation, allowing a degree of dispoability and risk many other candidates lacked. They're thick as a brick, but twice as tough, given their natural immunities and ability to ossify unique armor structures with repeated injury.
// TRIAL DISCONTINUED
Reason: The first test group collectively pried the bars of their cage apart before the Halcyon autotranqs were triggered. I've recommended the dispoal of the whole batch, despite unprecedented reception to neuromuscular modification.
// TRIAL RESUMED
Notes: Confining the subjects to isolated containment units will mitigate the issue of disruptive communication. Testing should continue unimpeded.
// TRIAL DISCONTINUED
Reason: After only a few generations of cerebral augmentation and skeletal adjustment, we've achieved crude bipedal locomotion and speech. Sadly, nearly 74% of their lexicon is comprised of expletives and variations of "coffee", language no doubt adopted from the researchers in residence. The remainder appears to be a wholly unique language, with no identifiable linguistic ancestor. Shame about this batch - their rate of development is staggering, as though they were waiting on this time for the right evolutionary nudge...
// TRIAL RESUMED
Notes: We now have linguists assigned to each litter at birth, with lesson-plans and dictionaries I have personally vetted. Hopefully, we can continue testing as planned without killing any more of these creatures.
// TRIAL DISCONTINUED
Reason: Success. Obedient, yet aggressive; sentient, yet single-minded. We've seen substantial growth, exceeding our most generous projections in all areas related to combat capability. I'm fairly certain I can even pitch these "Thralls" to the Workmaster General as some kind of cheap draft-beast. Who knows, given time, and the proper guiding hand...
Indifference Aside
(Audio recording from the operating theater located in the medical bay onboard the Nova, pulled as part of an investigation following structural damage to Nova's interior. Audio attached, transcript below.)
(Surgical monitoring equipment beeps, accompanied by calm, deep breaths from an unconscious patient. Operating logs indicate this to be Orendi.)
Beatrix: Oh, Mikollopria, so glad you could join me. I hear you're good with a knife, and I need a second pair of hands.
Miko: We were told you needed-
Beatrix: Hands, yes. I've just the one, you see, after I had my arm removed. Makes some operations difficult. Hold this, please.
Miko: Why did-
Beatrix: It was no longer functional. My body rejected it after some modifications, so I had it replaced. Like a lightbulb. That's what we do, you and I: reject, and replace.
Miko: Why is the Varimorph... sedated? We-
Beatrix: We inject things with poisons, yes. "First, do no harm."
(Beatrix giggles.)
Beatrix: Rubbish. Doing harm is the first step to progress. What were you before you were a healer? A forest or something, right?
Miko: We were endless, rooted across a whole world. We were ageless, and-
Beatrix: And boring. And then you weren't. You were uprooted, you joined the fight, and accomplished more in a few centuries than you had in eons before. The Eldrid would leave the dying to their deaths. You reject that, and replace death with life. I admire that about you, really, even if it's a bit short-sighted. The Jennerit are much the same, preserving life. Sustainment, survival; I ask you, what's so great about it? A moth survives! It's a half-measure! No, I refuse! I reject "life"!
Miko: What would replace life, if not death?
Beatrix: I'm not exactly sure. But, that's what makes our work so exciting! Rather an eye-opening experience. Speaking of, if you could start here?
Miko: Is she wounded?
Beatrix: Our primary incision will be just above the ocular-
(Sharp clatter as a scalpel is slapped out of Miko's hands and onto the floor.)
Orendi: NO! YOU CAN'T SLICE WHAT I CAN'T SEE!
(Orendi cackles over the sounds of crumpling metal and shattering glass. Emergency alerts chime over Nova's intercom system.)
Nova: Quarantine breach. Quarantine breach. Non-robots, hold your breath and don't touch anything until further notice.
Beatrix: Nurse Miko, sedation!
Shining Crazy Diamond
Dearest Sister Benniteg,
I've received word that the application of Beatrix Lucavi, my brilliant daughter, has been summarily rejected from the Order of the Sustaining Mother due to, and I quote, "Gross misconduct". Whatever reports you've received, I assure you, they are grievous hyperbole and nothing more.
I saw the disciplinnarian's summary of her first infraction, concerning her "playing doctor". Nothing could be further from the truth - my daughter does not "play". I am confident that despite her classmates' reluctance, the round of cootie inoculations she performed (with nothing but innovative use of a fountain pen!) were vital to preserving the classroom's safety. I note with no small satisfaction that Sister Tutha has ZERO cootie outbreaks on record following this "infraction".
As the Astranogyon tells us, "Chide not the Sun for blinding the upturned eye." My Trixie is a STAR and she needs to SHINE! And if her brilliance is a "distraction", as some say, the onus is on THEM to adequately direct their own education. Of course, the Solarium is no place for the uninitiated, but were it not for her ingenuity and resourcefulness, we might have never determined the melting point for the Astranogyon's display case! She is precocious, to be sure, but clearly she is able study.
Ask Trixie's classmate Hephaedra (once she awakens; Tutha tells me she estimates less than a week!), and she'll speak to my daughter's character: zealously passionate, unflinchingly loyal, a surprisingly strong throwing arm.
In conclusion, I implore you to reconsider. As soon as the guards find her and bring her home, she and I will have a frank discussion regarding her efforts in focusing on her studies, and we can put this "rejection" nonsense behind us.
Ever Your Faithful Sister,
Alessi Valefica Lucavi