Lore Challenges
Edit
| | |
| --- | --- |
| Let Slip the Dogs | Affect 5 or more enemies with a single use of Outbreak 10 times. |
| Chimera Oscura | Apply Patient Zero to 50 allies. |
| Indifference Aside | Kill 100 enemies with Fulminate |
| Nichts ist Ohne Gift | Deal 50,000 damage with the Incistyx Injector in a single match 10 times. |
| Shining Crazy Diamond | Apply Infection to 100 Battleborn |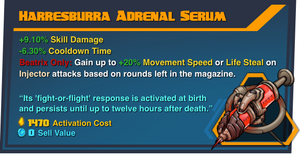 Note: completing all Lore Challenges is a part of "Master of Beatrix" challenge which rewards player with "Contusion Profusion" skin and "Master of Beatrix" title.
Ad blocker interference detected!
Wikia is a free-to-use site that makes money from advertising. We have a modified experience for viewers using ad blockers

Wikia is not accessible if you've made further modifications. Remove the custom ad blocker rule(s) and the page will load as expected.